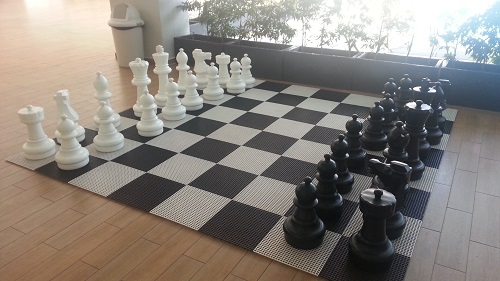 Category: Indoor Games
Product Code: SP 310020
Giant Chess Set
-Outdoor all-weather Giant Chess Set is suitable for players
of all ages.
- Made from polyurethane plastic that is tough and durable.
- Every piece is easy to move with small knob-style tops.
- Standard and proportional Staunton chess set designed to
be most familiar and recognizable by chess players.
- Includes 32 Giant Chess Pieces of Black and White colour.
Dimensions:
- All pieces base size: 9.5" diameter
- King: 25" tall; 1.39kg
- Queen: 22" tall; 1.36kg
- Knight: 18" tall; 1.12kg
-Bishop: 21.5" tall; 1.13kg
-Rook: 17" tall; 0.94kg
-Pawn: 16.5" tall; 0.83kg
Our mega chess giant plastic chess set with a 25" King has turned out to be a great mix for chess clubs, schools, backyards, resorts and any recreational facilities.
Made from high density polyethylene. These chess pieces are rugged, waterproof, & UV-resistant.