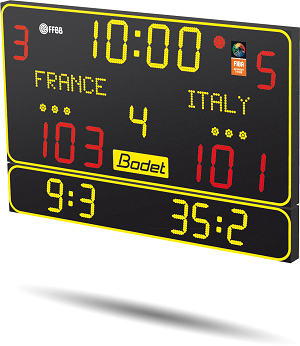 Category: Scoreboards Range
Product Code: SP 150125
Bodet 'BT 6125'
The BT 6125 scoreboard is a multi-sport scoreboard, it is ideal for racket sports and volleyball.
It allows penalty countdowns or set result to be displated. This scoreboard is designed for sports halls hosting school, country and regional competitions.
Viewing distance: 120m.
Dimensions: 2000mm (l) x 1300mm (h) x 80mm (w)
1 year warranty.