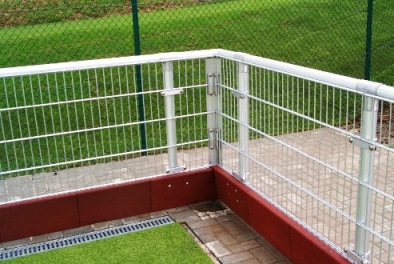 Category: Hockey Equipment
Product Code: SP 92000
Outdoor Hockey Barriers
Impact Board for Hockey Fields. For attachment to barriers and fences. Made from EPDM with aluminium core. The board is slopped so that the hockey ball is deflected downwards. The individual boards are connected with internal adapters. Dimensions: height 20.5 cm, thickness 8.5 cm top, 4.5 cm bottom. The hockey board is available in red, blue and green color.
Huge problems are experienced on many hockey pitches with extreme damage to the fence and barriers caused by the impact or the hockey ball. The hockey board protects the lower area.
Sportex supply and install hockey outdoor barriers for hockey field.